The History Of The Brewers Arms
Drunken Dragon
A well known, French inspired restaurant and pub, with histories dating back to the start of 1800th century. We have kept the business running through n through the hardest of times of world wars, taking pride in our service and best quality food prepared by our executive chef, who is passionate to keep the inherited art of brewery and cooking flowing for decades to come.
We welcome you all to pay a visit to our pub, located at the heart of Bicknacre, Chelmsford, quite popularly known by locals or get a reservation by connecting with us at our social networks or submitting a reservation form.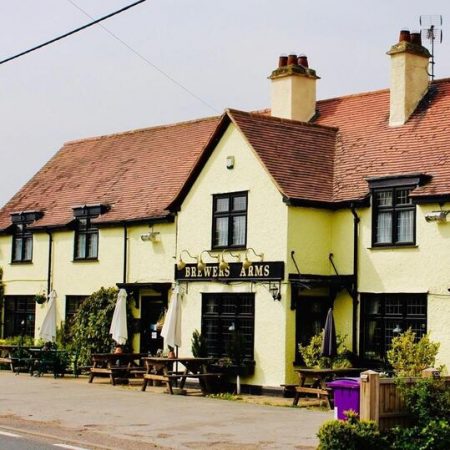 There has been a building on this site since 1639 formerly known as "Tile Pit Hall", part of the Woodham Lodge Estate. By 1811 the site was known as Bicknackre or Tile Pit Farm. Consisting of a farmhouse and barn. It was not until 1870 that the name "Brewers arms" was given to the site. The first host of the pub was Mr John Barnard Mason, and by 1882 Mr Alfred Boreham was pulling pints. Hy Wallis followed in 1888 and then James Francis Firman in 1890. 1895 saw a lady in charge of the pub, Mrs Elizabeth Punt (Eliza) In April 1890, the sheds and slaughterhouse adjoining the main building were destroyed by fire, which left the owner and tenant out of pocket since the buildings were not insured. Eliza retired in 1908 to be replaced by William Levington. In 1910 Arthur King became a tenant and stayed until 1922 when Charles (Chas) Smith took over. Chas was probably one of the first in the district to own a television, which he put up in the bar to share with his customers. During the second world war, he offered shelter to the locals from the bombs, who as the first sign of trouble were ushered down into the pub cellar. Unfortunately one night after an evening with the Home Guard, Chas Smith was killed by a stray bomb as he sat in the pub kitchen. History is sketchy from then until the early 1960s when Cyril Kelly took charge, who subsequently handed the pub over to John Hainsworth around 1967. The Hainsworth's stayed nearly 30 years before Peter and Karen Brown purchased the freehold in 1997. They retired and sold the pub to Ben Davies in 2019 the current owner.
Opening Times

Day
Restaurant
Morning
Restaurant
Evening

Bar
Monday
Closed
5 PM to 8 PM
4 PM to 10 PM
Tuesday
12 PM to 3 PM
5 PM to 8 PM
12 PM to 11 PM
Wednesday
12 PM to 3 PM
5 PM to 8 PM
12 PM to 11 PM
Thursday
12 PM to 3 PM
5 PM to 8 PM
12 PM to 11 PM
Friday
12 PM to 3 PM
5 PM to 8 PM
12 PM to 12 AM
Saturday
12 PM to 3 PM
5 PM to 8 PM
12 PM to 12 AM
Sunday
12 PM to 4 PM
Closed
12 PM to 10 PM
Meet the Drunken Dragon Team
Ben Davies
Owner & Head Chef
Our Friendly Staff
A warm welcome from our staff is guaranteed from the minute you walk through the door
Book Your Table

For Further Info!
Feel free to fill the form with your contact details, along with the time of reservation, number of guests, and date. We would love to host you with your friend and family in our restaurant.
Opening Times

Day
Restaurant
Morning
Restaurant
Evening

Bar
Monday
Closed
Closed
Closed
Tuesday
12 PM to 3 PM
5 PM to 8 PM
12 PM to 10 PM
Wednesday
12 PM to 3 PM
5 PM to 8 PM
12 PM to 10 PM
Thursday
12 PM to 3 PM
5 PM to 8 PM
12 PM to 10 PM
Friday
12 PM to 3 PM
5 PM to 8 PM
12 PM to 12 PM
Saturday
12 PM to 3 PM
5 PM to 8 PM
12 PM to 12 PM
Sunday
12 PM to 4 PM
12 PM to 10 PM